Almost 1,2 million signatures for Save Bees and Farmers…
Together we have reached our goal! What's next?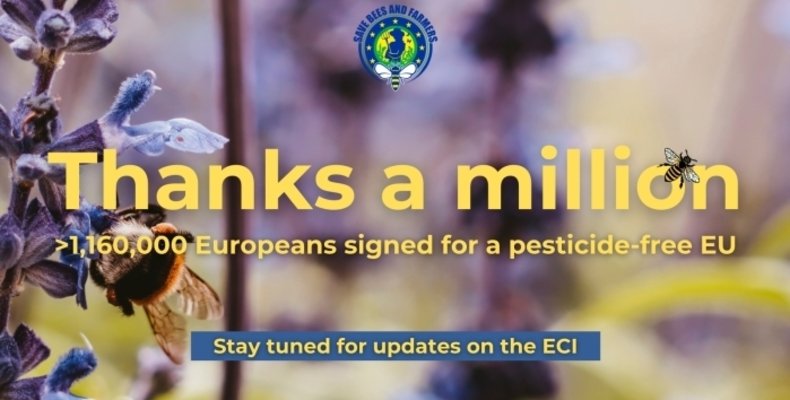 Can you believe it? Almost 1,2 million signatures for Save Bees and Farmers, wow… Two months ago many people thought we would never make it. They didn't count on you! Thank you for your tremendous support. Of course, we can't fully claim victory before national authorities validate the signatures in the next 3 months. But with your support, we managed to ensure a comfortable margin.
In 2017, the Stop Glyphosate ECI gathered 1,3 million signatures. Now, Save Bees and Farmers could be the second successful anti-pesticide ECI! With such a strong signal from civil society, we expect the EU to start working on a transition towards healthy and nature-friendly farming.
Now, what are the next steps?
1. We receive all signatures on paper forms
We urge everyone who has collected signatures on paper to send them to the address printed on the document. Please do this next week, so we can finish the count on October 10. Remember: these paper signatures are very important to secure our success!
2. We send the signatures to the national authorities
This is the next big task for the organisers in the coming weeks: bringing all the paper and online signatures to the authorities in charge of checking them in every EU country.
3. We get the signatures verified
Once we have submitted the signatures, verification will follow. After this step, all the data you have submitted to support the initiative will be deleted.
If we have effectively reached 1 million valid signatures, we will receive a certificate allowing us to present our demands to the EU Commission. The Commission will come with a reaction and this will be discussed in the EU Parliament. We will be present in the hearings and pesticides will be a hot topic in the press.
In the next months, we have a lot of work to do to process signatures and to make sure our ECI has the best effect possible. Any donation, small or big, would increase the impact of this work.
Via our newsletter, we will keep you posted on all developments. Sign up here if you haven't done it yet! In the meantime, all organisations backing Save Bees and Farmers will continue their fight to protect nature and biodiversity, to push for positive change in agriculture and to expose the dangers of pesticides. We also invite you to check out and sign other ongoing ECIs on the EU's website, for example to demand unconditional basic income or to ban fossil fuels advertising and sponsorship.
Thank you again for having taken part in one of the most successful ECIs. Let's stay in touch!