Today is the day when we are celebrating bees around the world to remind people how important they are, as pollinators pollinate more than 80% of wild plants and contribute to the preservation of biodiversity.
It is coincidentally the day the European Commission has published the Farm-to-Fork as well as the Biodiversity Strategy.
World Bee Day: 50% pesticide reduction target strong signal but clearly not enough to restore biodiversity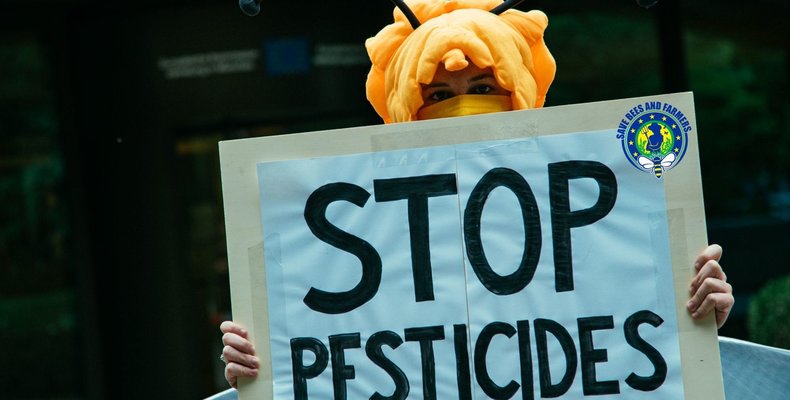 Both documents were meant to lead the European Union to a recovery of biodiversity while producing food in a clean, sustainable and affordable way. While one of the flagship measures that have been put forward since the beginning is the definition of clear and mandatory pesticide reduction targets, Stella Kyriakides (Commissioner for Health and Food safety) announced today a 50% reduction target by 2030.
The alliance behind the "Save Bees and Farmers!" ECI believes that while this is a strong signal addressing the loss of biodiversity and the imminent collapse of nature, it is clearly not enough, as a systemic change is urgently needed towards an agriculture which is completely free from chemical synthetic pesticides: science clearly says that the way to protect and restore biodiversity is not a 50% reduction but a 100% reduction, transforming our agriculture towards agroecology.
As the EU Commission's reduction target of only 50 % does not go far enough, World Bee Day represents an important opportunity to remind all society that bees and the rest of living organisms need our help more than ever: we need a complete phase-out of pesticides to restore biodiversity.
The protection of biodiversity must be one of the bases of the reconstruction of our economies after the coronavirus crisis.
Therefore the ECI will keep fighting for a pesticide-free Europe.
Sign the ECI, post on social media and send e-mails to your relatives, friends and colleagues asking them to sign in order to push the European Commission to be more ambitious and stop the fatal decline of bees and other pollinators!