The EU is preparing a new regulation to reduce the use of pesticides. For us, it is not ambitious enough: see our letter to the EU Commission below.
In the name of 1,2 Million EU citizens: double efforts to green agriculture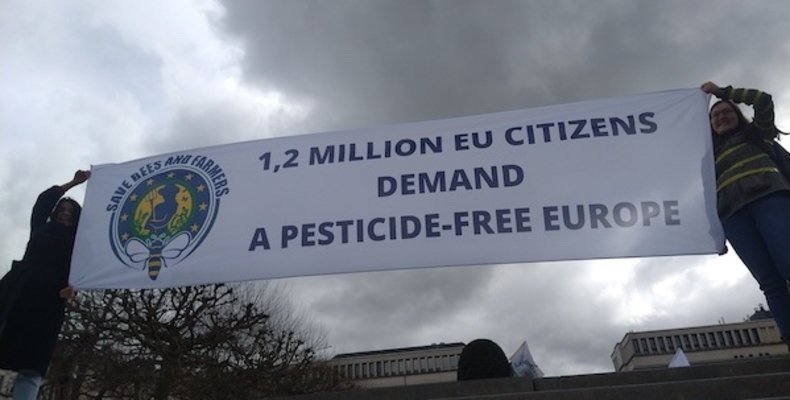 21 March 2022
In the name of 1,2 Million EU Citizens
Double the efforts for Green Deal 2.0:
Restore biodiversity, ensure food security, clean water and good health
Statement by the Save Bees and Farmers European Citizens Initiative
Large parts of our food system depend on chemistry: artificial fertilizers and pesticides. We urgently need to make it more resilient. To ensure food security in the long term, to end our dependency on fossil fuels, to ensure clean water, protect our health and to restore biodiversity. That is why 1,2 million European citizens signed and gave their personal identity in the Save Bees and Farmers ECI.
We want a reduction of synthetic pesticides by 80% in 2030 and a full phase out in 2035. We ask for support for farmers to work with nature and to restore biodiversity.
We ask you to listen to the EU citizens and not to surrender to the attacks from the agro-industry on EU environmental standards. A series of lobbies are trying to use of the Russian invasion of Ukraine, to prevent the urgent reform of the fuel- and chemical-intensive agriculture.
Short term solutions to a risk of food scarcity should not negatively impact long-term solutions to food security, the restoration of biodiversity and the protection of climate. Cereals are mostly used for animal feed and agrofuels. A risk of food scarcity can easily be solved by temporarily reducing the production of biofuels and the use of cereals for animal feed. Reducing environmental standards or destroying new fields highly essential for biodiversity is not an option!
The current rise in prices of cereals and the scaremongering messages put forward by industrial agriculture lobbies highlight the fragility of the EU's mainstream agricultural model. This crisis underlines how compelling a systemic reform of EU agriculture is. The EU imports cereals from Ukraine and Russia to feed livestock that is in term mostly exported to third countries. This system is very inefficient and relies exclusively on cheap cereals, in production not subjected to EU regulations, and therefore produced with high amounts of synthetic pesticides and fertilizers, harming citizens' health and biodiversity. Our dependence on synthetic fertilizers and pesticides and imports of foreign feed or is a major source of weakness for our agriculture and it is the duty of our decision-makers to improve this situation.
One lesson from this crisis should thus be: this Farm-to-Fork Strategy is not enough: we need a reinforced and more ambitious Farm-to-Fork 2.0 !
We ask European and national politicians to strongly support an ambitious new Pesticide Reduction Regulation. Synthetic pesticides have a large socio-environmental cost to society and agroecology is the only method to feed Europe in a truly sustainable way for us and the generations to come.