(English) Once again, in Spain, pesticide sprayings are currently being carried out on roadside ditches, despite the fact that this is precisely the time when nature is abloom and bees and other pollinators are very active.
Fumigaciones en cunetas de carreteras en España en plena floración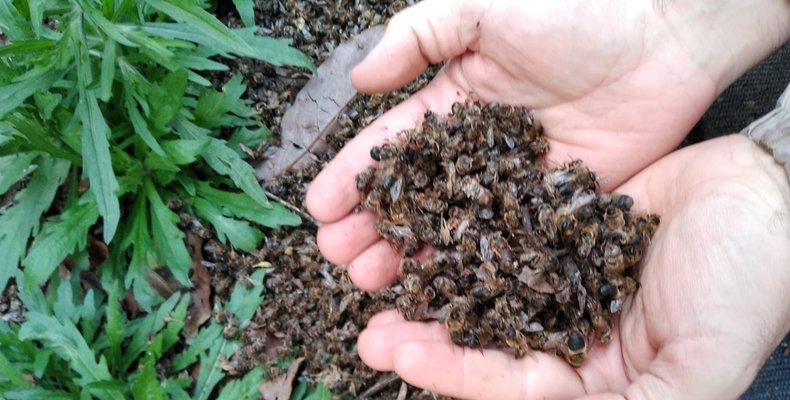 (Español)
Esta semana de nuevo, en España, se están realizando fumigaciones en cunetas de carreteras, cuando estamos en plena floración y las abejas y otros polinizadores están muy activos.
La Iniciativa Ciudadana Europea "Salvemos a las Abejas y a los Agricultores!" considera que esto es una clara agresión contra la salud de las personas, del medio ambiente y de la economía, y se une al conjunto de organizaciones que en el territorio español están pidiendo la prohibición total de los plaguicidas que son tóxicos para los polinizadores, específicamente a la Plataforma SOS biodiversidad SOS polinizadores, que es parte integrante de esta gran alianza Europea 1.
Esta plataforma recientemente publicó un manifiesto en el que se exige, entre otras cosas, la prohibición sin excepciones de todas las fumigaciones aéreas por cualquier medio (avionetas, drones, etc) y todas las fumigaciones en cunetas de carreteras y otras vías. En él se pide que, mientras se verifica esa prohibición, se facilite administrativamente la obtención de información sobre las aplicaciones autorizadas (recordemos que la ley obliga a su vista pública y a un Registro de Aplicaciones Aéreas, concretamente el artículo 29 del Real Decreto 1311/2012, de 14 de Septiembre, por el que se establece el marco de actuación para conseguir un uso sostenible de los productos fitosanitarios).
Muchos de los plaguicidas empleados actualmente en la agricultura industrial son un desastre ambiental y sanitario, y también económico para sectores como el de la apicultura, quien se há unido a la Iniciativa Ciudadana Europea para instar a la Comisión Europea a que proponga actos jurídicos dirigidos a eliminar gradualmente los plaguicidas sintéticos de aquí a 2035 (un 80% de aquí a 2030, empezando por los más peligrosos, para quedar libres de plaguicidas sintéticos en 2035), restaurar la biodiversidad y apoyar a los agricultores en la transición.
1 La Plataforma SOSbiodiversidad SOSabejas se constituyó el año pasado por distintos ciudadanos y por distintas organizaciones medioambientales, de consumidores y de apicultores, con el objetivo de unir fuerzas para exigir la prohibición de los plaguicidas tóxicos para las abejas y otros polinizadores.
(English)
The European Citizens' Initiative "Save Bees and Farmers!" views this as a clear attack against people's health, the environment and the economy, and joins those organizations in Spain (specifically the SOS biodiversidad SOS polinizadores Platform, which is part of the ECI alliance1) that are demanding a complete ban on pesticides toxic to pollinators.
This platform recently published a manifesto demanding, among other things, a ban without exceptions of all aerial spraying (light aircrafts, drones, etc.) and all spraying on roadside ditches. In the document they request that, while this is approved, there is an easy access to the information on authorized pesticides uses (the law requires a public hearing and an Aerial Applications Registry, specifically the article 29 of the Royal Decree 1311/2012, September 14th, which establishes the framework to achieve a sustainable use of plant protection products).
Many of the pesticides currently used in industrial agriculture are a huge threat to our health and the environment, as well as an economical one for sectors such as beekeeping. This is why, among others, many beekeeping associations have joined the European Citizens' Initiative to urge the European Commission to set legal acts aimed at phasing out synthetic pesticides in EU agriculture by 80% by 2030, starting with the most hazardous, to become free of synthetic pesticides by 2035, and to restore biodiversity while supporting farmers in the transition.
1 SOS biodiversidad SOS polinizadores Platform was established last year by different citizens as well as environmental, consumer and beekeeping organizations, with the aim of joining forces to demand a ban on pesticides that are toxic for bees and other pollinators.